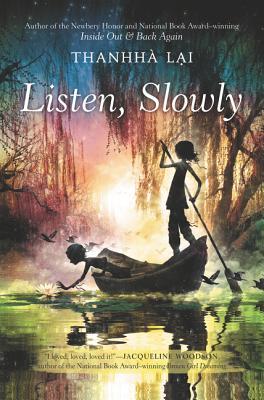 Title: Listen, Slowly
Author: Thanhha Lai (my apologies to the author for not knowing how to reproduce the diacritical marks in her name)
Publisher: Harper, 2015. 260 pages.
Source: Library
Summary:
12-year-old Mai Le is ready to spend the summer at the beach in Laguna, CA with her best friend. But her family has other plans. Her grandmother has heard from a detective in Vietnam who has information about the grandfather who disappeared during the war. Now Ba can't rest until she goes home to learn if Ong might still be alive. And Mai is told off to accompany her because her parents are too busy, as Mai says, "doing good." The girl's resentment gradually melts as she finds that some things might be more important than the beach.
Review:
First, can I just say that this book has the most beautiful cover?! I love it. And the book is lovely enough to match the cover. Mai is an entirely human girl, neither inhumanly dedicated to her grandmother nor so totally self-centered as to irritate the heck out of me (she is just as self-centered as a 12-year-old should be). She resents what she has been asked to do and give up, but not so much as to fail to--gradually--come to recognize what she has been given instead. I'd say that, in a nutshell, the whole book is about acceptance, peace, and priorities. As Mai makes peace with her task, and connects with the extended family she's never known, Ba also finds peace. Watching those two take care of each other is part of the beauty of the story.
I think that while the story has a great deal of appeal to adults on some levels that kids may not get or appreciate, it is also (as cannot be said about all books we grown-ups love) a story that I think will resonate with children. Mai is delightfully human, and while many kids may not relate to the obedience to her elders that is part of the culture she has inherited despite her American upbringing, all can relate to what happens when she is pushed outside her comfortable world and given something real to do.
Recommendation:
I think this is one that really does appeal to both kids and adults. I'd say more girls than boys (not just because Mai is female, but because she is a bit obsessed with a boy), and probably from ages 10 or 11 up. References to the war are mostly oblique, but some of the reality of war does come through.
Full Disclosure: I checked Listen, Slowly, out of my library, and received nothing from the writer or publisher in exchange for my honest review. The opinions expressed are my own and those of no one else. I am disclosing this in accordance with the Federal Trade Commission's 16 CFR, Part 255: "Guides Concerning the Use of Endorsements and Testimonials in Advertising."