Z is for Zito, from the Viridian System
In a Nutshell:
He is one of very few big cheeses in the Viridian System, and part of the organising group (aka Council) on Pleasant Valley. Basically the six most powerful/rich people get together whenever anything looks like causing trouble that would threaten their own interests.
Biggest secret:
where he originally came from. Nobody knows, and he claims to have forgotten: "Most people have changed their identity at least once, so if you know you don't know, you don't have to remember a lie."
Favourite line:
"I can get hold of anything for you except space hardware, and if you want that, I'll introduce you to someone."
The Viridian System series will be resumed next year:
Book 1 - The Perihelix (an interview with the author about this is
here
).
Book 2 - Curved Space to Corsair
Book 3 -
Zanzibar's Rings
Sign up for the newsletter for the Viridian System series
here
.
Check out the Viridian System Sampler - second edition (and update your copy if you bought the first)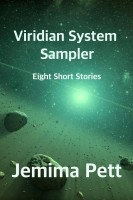 And...We made it! Congratulations on surviving another A to Z Challenge, whether you were blogging or "just" reading (which might be the toughest job of all). Thanks to everyone who has visited and left comments. I appreciate the support.