I've been following Chuck Wendig's blog for a long time now, gleaning writerly wisdom and writing prompts for my flash fiction. I've read and enjoyed (and
written about
) his writing book,
The Kick-Ass Writer.
Now I've read the first book in his dystopian Young Adult Heartland Trilogy.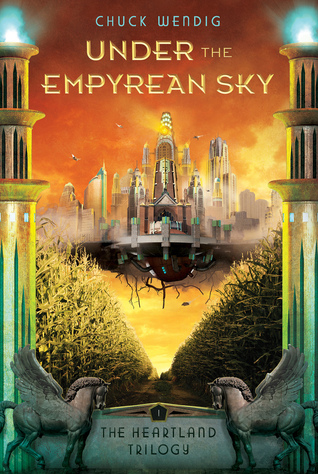 Title:
Under the Empyrean Sky (Heartland Trilogy #1)
Author:
Chuck Wendig
Publisher:
Skyscape, 2013. 354 pages.
Source:
I think I picked this one up on a free or cheap day at Amazon.
Publisher's Summary:
Corn is king in the Heartland, and Cael McAvoy has had enough of it. It's the only crop the Empyrean government allows the people of the Heartland to grow — and the genetically modified strain is so aggressive that it takes everything the Heartlanders have just to control it. As captain of the Big Sky Scavengers, Cael and his crew sail their rickety ship over the corn day after day, scavenging for valuables, trying to earn much-needed ace notes for their families. But Cael's tired of surviving life on the ground while the Empyrean elite drift by above in their extravagant sky flotillas. He's sick of the mayor's son besting Cael's crew in the scavenging game. And he's worried about losing Gwennie — his first mate and the love of his life — forever when their government-chosen spouses are revealed. But most of all, Cael is angry — angry that their lot in life will never get better and that his father doesn't seem upset about any of it. Cael's ready to make his own luck . . . even if it means bringing down the wrath of the Empyrean elite and changing life in the Heartland forever.
My Review:
As my regular readers know, I don't do a lot of YA books, and one reason is that they are often more violent and dystopian than I like. In many ways, that was true of
Under the Empyrean Sky
. But it's also a very well-written book.
Here's what I liked: it's a complex story with plot twists I never saw coming (as well as some I did). Teen angst was minimal, because these teens have real nasty lives to deal with. There is a realistic conflict, or at least tension, between Cael and his father.
What I disliked: This is
dark!
The Heartland sucks. And there is a lot of violence in the book. Obviously, none of these things is necessarily bad. They just aren't to my taste so much. A more significant criticism is that, as with so many YA novels, a lot of stuff goes wrong because the adults and teens aren't talking to each other. This may be realistic in some ways, but I think those parents need some lessons in parenting, the way they hide stuff from nearly-grown kids, stuff the kids really need to know!
What intrigued me, and will probably make me read on: There's a lot still to learn about this world Wendig has created. I want to know more about it and how it works--especially what's out beyond the Heartland? I do find that I'm almost more interested in that than in the characters, which is not so good.
Summary:
This is definitely a book for older teens. But I think a lot of older teens will really like it, especially those who are sick of vampires and moony females.
Full Disclosure: I purchased
Under the Empyrean Sky
, and received nothing from the writer or publisher in exchange for my honest review. The opinions expressed are my own and those of no one else. I am disclosing this in accordance with the Federal Trade Commission's 16 CFR, Part 255: "Guides Concerning the Use of Endorsements and Testimonials in Advertising."