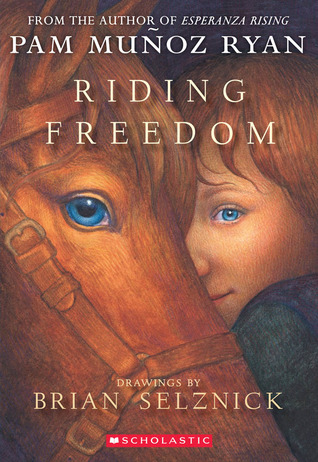 Title:
Riding Freedom
Author:
Pam Munoz Ryan; illustrated by Brian Selznick
Publisher:
first published 1998 by Scholastic, 144 pages. Ebook published 2013; on my Nook it had 75 pages.
Source:
library (digital)
Summary:
Based on a real person, Charlotte Parkhurst, this book tells of a girl who disguises herself as a boy to escape a workhouse (masquerading as an orphanage). Unlike most who did that sort of thing (at least in books), she did not resume her female persona. Now known as Charley, Charlotte went on to become an expert stage driver, emigrated to California, and became--50+ years before it was legal--the first woman in the country to vote (so far as we know!). Note: the summaries on Amazon and Goodread talk about her being married and losing husband and baby, then resuming her male role. Nothing in the book suggests any such thing, including the historical note at the end, though there is mention of a time spent in Atlanta which isn't covered in the book.
Charlotte's story is both expanded and compressed. Expanded, because very little is known of her life (for obvious reasons), so the author had to invent small incidents, dialog, and feelings. But it is also compressed, in that the author chose to put all the key events into far fewer years than they actually encompassed for the sake of a more coherent narrative.
Review:
I am a huge fan of historical fiction, and finding a book like this, based on a remarkable real person, is a delight. Though I enjoyed it a great deal, the writing style is not to everyone's taste--it is definitely written in the style of a children's biography, with more "showing"
and made-up dialog than an adult book would have, but still with a certain distance and a great deal more "telling" than we consider optimal in a novel. Frankly, I didn't care. The story is compelling, and well-told. Selznick's illustrations only add to the delight.
Like many readers (based on a scan of the reviews), I would have liked to know more about what happened after the book ends. Charlotte had a great friend at the orphanage, Hayward, and she invites him (according to their childhood plan) to join him on the ranch she eventually buys. What becomes of that relationship? I believe that the author does not pursue this because he is not an historical character, but the possibilities are tantalizing.
Recommendation:
This is a book that offers a good look at issues faced by women in the 1800s, as well as being an inspiring story of perseverance in the face of great odds. I recommend it for those who like history and historical fiction, biography, and stories of strong women.
Full Disclosure: I checked Riding Freedom out of my library, and received nothing from the writer or publisher in exchange for my honest review. The opinions expressed are my own and those of no one else. I am disclosing this in accordance with the Federal Trade Commission's 16 CFR, Part 255: "Guides Concerning the Use of Endorsements and Testimonials in Advertising."