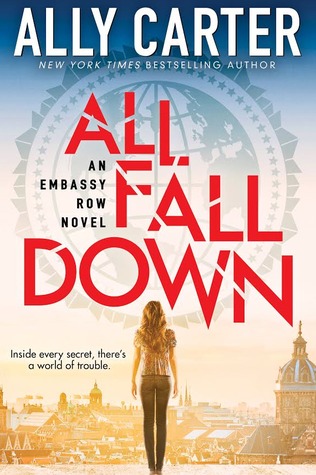 Title:
All Fall Down (Embassy Row #1)
Author:
Ally Carter; narrated by Eileen Stevens
Publisher:
Scholastic Audio, 2015. (Original Scholastic Press, 2015, 310 pages)
Publisher's Summary:
Grace Blakely is absolutely certain of three things:
1. She is not crazy.
2. Her mother was murdered.
3. Someday she is going to find the killer and make him pay.
As certain as Grace is about these facts, nobody else believes her -- so there's no one she can completely trust. Not her grandfather, a powerful ambassador. Not her new friends, who all live on Embassy Row. Not Alexei, the Russian boy next door, who is keeping his eye on Grace for reasons she neither likes nor understands.
Everybody wants Grace to put on a pretty dress and a pretty smile, blocking out all her unpretty thoughts. But they can't control Grace -- no more than Grace can control what she knows or what she needs to do. Her past has come back to hunt her . . . and if she doesn't stop it, Grace isn't the only one who will get hurt. Because on Embassy Row, the countries of the world stand like dominoes, and one wrong move can make them all fall down.
My Review:
I picked up this book because it was discussed in the Goodreads Great Middle Grade Reads group, as an example of a book that a Jr. High-aged kid (as I recall) thought was one of the best (as in, books he/she most enjoyed reading). I can certainly see the appeal, and I rather wish I'd gotten it in print, not as an audio, because I think the over-dramatic reading style kind of put me off.
As a result, I ended up thinking about what the writing books say about pacing: if you are at breathless full speed all the time, it's too much.
In this case, the pace was both too much and a little unconvincing. The narrator's breathless stress got wearisome, and as a result much of the urgency got lost through the middle of the book. Which is fine. I think the mistake was trying to keep Grace at full panic for the whole thing, and I can't be sure if that was in the writing or the reading.
Nonetheless, I enjoyed the book, and I can certainly see the appeal for teens, especially younger teens. The book stays out of "does he love me?" territory (which is bad from the perspective of some kids, but good for me and for others), and focuses on the mystery that Grace is struggling to unravel. The ending isn't a total surprise, but it does surprise Grace, and forces some reassessment of things she's been taking for granted the whole time.
Recommendation:
Despite the lack of romance (Grace does do a very small amount of mooning, but that's about it), this has a YA feel to me. Maybe it's because of the age of the main character (16) or because she's dealing with some very real and adult threats (assassination), but I felt like it should be for kids about 12 or 13 and up--junior high, here in the States. And, as noted, I think the narration does the story no favors. I'll be reading the next in the series, and I'll do it on paper to get a better sense of the author's technique.
Full Disclosure: I checked All Fall Down out of my library, and received nothing from the writer or publisher in exchange for my honest review. The opinions expressed are my own and those of no one else. I am disclosing this in accordance with the Federal Trade Commission's 16 CFR, Part 255: "Guides Concerning the Use of Endorsements and Testimonials in Advertising."