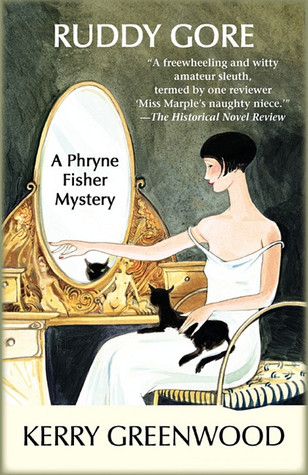 Title: Ruddy Gore
Author: Kerry Greenwood
Publisher: Poisoned Pen Press, 2005 (original publication 1995). 207 pages.
Source: Library
Publisher's Summary:
Running late to a gala performance of Gilbert and Sullivan's Ruddigore, Phryne Fisher meets some thugs in dark alley and handles them convincingly before they can ruin her silver dress. She then finds that she has rescued the handsome Lin Chung, and his grandmother, who briefly mistake her for a deity.n Denying divinity but accepting cognac, she later continues safely to the theatre where her night is again interrupted by a bizarre death onstage. What links can Phryne find between the ridiculously entertaining plot of Ruddigore, the Chinese community of Little Bourke St., or the actors treading the boards of His Majesty's Theatre?
My Review:
As usual, I found the adventures of Phryne Fisher to be a read-it-straight-through diversion. There is nothing very substantial about the story, but the addition of Gilbert and Sullivan plots to Phryne's already somewhat entertaining life gave the story some added fun for me (I believe I have confessed before to being a fan of G&S). There were a few things missing from this story that I always enjoy. Bert and Cec played no role, nor were there any appearances by Phyrne's adopted daughters, who tend to add a tough of common sense to the menage (along with Dot, Phryne's maid, who in this case gets to do little but fret over her mistress). But the introduction of Lin Chung is an important development for the series (which I initially began reading rather out of order, so it's nice to learn where he comes from), and the two threads are kept just close enough together to work well, without any unreal overlapping of worlds. The outcome of the mystery was reasonably satisfying, and it's always fun to see Phyrne making people's lives better in between solving crimes and heading to bed with lovely young men.
Recommendation:
If you are already of fan of the series, this is an important book! If you aren't, it's an okay place to begin, though I think it's a series that is well served by reading in order (or maybe that's just me being OCD; I've done it both ways and jumping into the middle was good enough to hook me). These books aren't for anyone upset by an unmarried woman with a love of good sex, but they are not particularly explicit and I would be willing to recommend them to my mom.
Full Disclosure: I borrowed Ruddy Gore from my library, and received nothing from the author or the publisher in exchange for my honest review. The opinions expressed are my own and those of no one else. I am disclosing this in accordance with the Federal Trade Commission's 16 CFR, Part 255: "Guides Concerning the Use of Endorsements and Testimonials in Advertising."