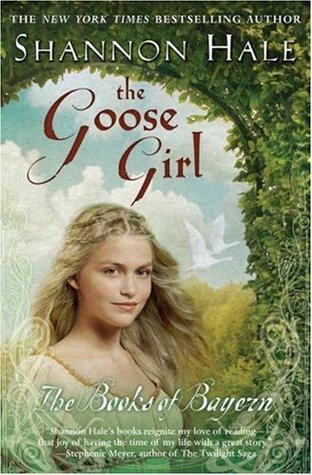 Title:
The Goose Girl
(The Books of Bayern #1)
Author:
Shannon Hale
Publisher:
Full Cast Audio, 2005 (Original: Bloomsbury Children's, 2005)
Source:
Library (digital)
Publisher's Summary:
Anidori-Kiladra Talianna Isilee, Crown Princess of Kildenree, spends the first years of her life under her aunt's guidance learning to communicate with animals. As she grows up Ani develops the skills of animal speech, but is never comfortable speaking with people, so when her silver-tongued lady-in-waiting leads a mutiny during Ani's journey to be married in a foreign land, Ani is helpless and cannot persuade anyone to assist her. Becoming a goose girl for the king, Ani eventually uses her own special, nearly magical powers to find her way to her true destiny.
Review:
A note on the production quality first: while the reader is very good, the recording itself has strange hesitations in it, as though the splices weren't quite smooth. I found this distracting, as it at times disrupted the meaning of a sentence, or made it seem we were starting a new paragraph or section when we were not. I am currently listening to the second book in the series, and it has the same quirk. I may shift to print. I have never encountered this in any other Full Cast Audio books I have listened to, so don't know what's up with that.
This book is the author's re-envisioning of the old fairy tale of the Brothers Grimm tale of the Goose Girl, a princess who is forced by her evil maid to trade places so the maid can marry the prince of a distant country. Hale looked at the obvious questions (like why the princess was so spineless as to let the maid force her that way) and came up with some very inventive answers.
I found the story a little slow at first, as we began with Ani's birth and a rather reportorial accounting of her early years. The story picks up, though, when Ani begins the journey to Bayern and we encounter her maid's treachery. I ended up enjoying a a great deal (aside from the problems with production values on the audio).
Recommendation:
Although this book is pretty universally shelves with children's books, I would have to say that some aspects of it push it closer to YA (though I think the romance is not central enough for many YA readers). I would recommend for 5th or 6th grade, at least.
Full Disclosure: I borrowed an electronic copy of The Goose Girl from my library, and received nothing from the author or the publisher in exchange for my honest review. The opinions expressed are my own and those of no one else. I am disclosing this in accordance with the Federal Trade Commission's 16 CFR, Part 255: "Guides Concerning the Use of Endorsements and Testimonials in Advertising."