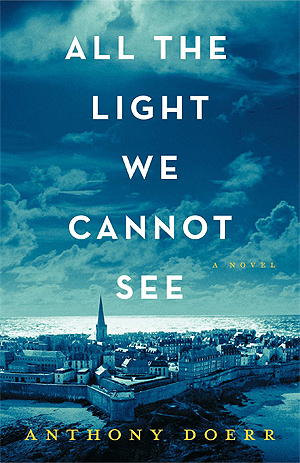 Title:
All the Light We Cannot See
Author:
Anthony Doerr
Publisher:
Scribner, 2014, 531 pages
Source:
Library

Publisher's Summary:
Marie-Laure lives in Paris near the Museum of Natural History, where her father works. When she is twelve, the Nazis occupy Paris and father and daughter flee to the walled citadel of Saint-Malo, where Marie-Laure's reclusive great uncle lives in a tall house by the sea. With them they carry what might be the museum's most valuable and dangerous jewel.

In a mining town in Germany, Werner Pfennig, an orphan, grows up with his younger sister, enchanted by a crude radio they find that brings them news and stories from places they have never seen or imagined. Werner becomes an expert at building and fixing these crucial new instruments and is enlisted to use his talent to track down the resistance. Deftly interweaving the lives of Marie-Laure and Werner, Doerr illuminates the ways, against all odds, people try to be good to one another.
My Review:
I don't usually review big best-sellers. In fact, I don't usually read them, probably due to a not very admirable stubbornness that refuses to jump on the bandwagon. In this case, the general story (and that cover) kept catching my eye at the library, and I initially made an attempt to listen to the audio book. I think that there was something wrong with the recording, though (this sometimes happens with my ancient MP3; files get a little scrambled), and it just didn't seem to make sense or grab my attention. I gave up. [As noted, this is not a condemnation of the audio book, since I think that the problem lay in problems I was having with my device.]
But I kept talking to people who really liked it, so I finally took the hardback out of the library, and read it during the holidays. To my surprise, I quickly became engaged with the book and ended up liking it very much. (Okay, I can hear you saying that I shouldn't be surprised to like a book with so many literary prizes, but that's me. Literary prizes make me suspicious.)
What makes the book work? For one thing, the characters are unusual but not unbelievable. Werner, in particular, is no hero. He has a particular kind of genius, but that doesn't translate to any ability to stand up to injustice and wrongs through most of his boyhood. A hard life has taught him, instead, to keep his head down and obey orders, which he does through most of his life. But he is human, and so what his orders lead to sickens him, and creates in him a growing tension that I expected to break out in a different way than it did. (I only now see that what happens to him in the end is an expression of this).
Marie-Laure is perhaps even more amazing--the blind girl who learns to do so much, and goes through so much, without giving up. Her story is a more conventional coming-of-age tale, in many ways. Certainly she grows up through the terrible events that are the crux of the book. She is a more likable character than Werner, but I think that the brilliance of the book lies not with her ability to overcome obstacles, but in the development of Werner as a human and humane individual who is nonetheless not a hero who stands up to the Third Reich. He humanizes the German side of things, without being the kind of desperate rebel we prefer to glorify. At first, I was put off by this failure on his part, but in the end, I saw him as a way of understanding how so many basically good people ended up going along with the Nazi regime.
The writing style makes this a much faster read than the page count would suggest. Short chapters alternate between Werner and Marie-Laure, and sections switch back and forth between the crucial final days in Saint-Malo and the years leading up to that point (this may have been part of my problem with the audio book, as it is harder to track switches like that on audio, without visual cues). The settings and voices are clear and easy to track.
My Recommendation:
Read it. It's not perfect; there are some things about the ending that I wasn't wild about. But it's a good read, and it helps us see two sides of something in this time when empathy seems to be in danger of extinction.
FTC Disclosure: I checked All the Light We Cannot See out of my library, and received nothing from the writer or publisher for my honest review. The opinions expressed are my own and those of no one else. I am disclosing this in accordance with the Federal Trade Commission's 16 CFR, Part 255: "Guides Concerning the Use of Endorsements and Testimonials in Advertising."