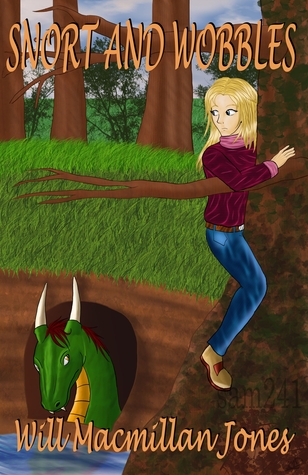 Title:
Snort and Wobbles
Author:
Will Macmillan Jones
Publisher:
Ebook only, 2014. 67 pages
Summary:
Wobbles is eight years old and feeling a bit out of things as the family (Mom, Dad, older brother) adjusts to a new home. When she wanders to the end of the garden by the creek (where she's not supposed to be), she finds some surprising friends--Snort the Dragon, a talking rosebush, and more. And when her brother goes missing, they go to the rescue!
Review:
The author is better known for his fantasy novels (not for children), the
Banned Underground
series, and some of his delightful and outrageous sense of humor shows up here. What lurks under the smooth lawns of suburbia? Wobbles is about to find out, and we are lucky enough to be invited along. The story unfolds with no wasted time or words, as befits a book for young readers. I think there is just the right amount of excitement and danger, not to mention humor, to keep those readers turning pages. And I think Jones has pegged the little-kid way of thinking pretty well, with the sort of round-about reasoning and an open-minded acceptance of things adults would disbelieve that characterizes the young
The book is well-edited, meticulously proof-read, and formatted well, with no issues on my Nook.
Recommendation:
This book is for younger elementary age kids, in keeping with the 8-year-old protagonist and the brevity of the story. It is also for anyone who loves the absurd, and is happy to take dragons and more in stride.
Full Disclosure: I bought
Snort and Wobbles
of my own free will, and received nothing from the writer or publisher in exchange for my honest review. The opinions expressed are my own and those of no one else. I am disclosing this in accordance with the Federal Trade Commission's 16 CFR, Part 255: "Guides Concerning the Use of Endorsements and Testimonials in Advertising."
###
Don't miss the Pismawallops PTA Back-to-School sale! Ebook just $2.99 until Sept. 10. Visit Amazon or
use coupon code PJ97S to get the same price from Smashwords, which sells all formats, including Kindle, Kobo and Nook.