I've listened to a couple of books lately that were about the Olympics in the 1920s and 30s, so I'll comment on both of them here.
The first was: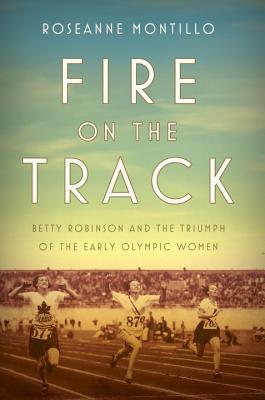 Title:
Fire on the Track: Betty Robinson and the Triumph of the Early Olympic Women
Author:
Roseanne Montillo
Publisher:
Random House Audio, 2017. Original published by Crown Publishing Group, 2017. 304 pages.
Source:
Library digital resources

Publisher's Summary:

When Betty Robinson assumed the starting position at the 1928 Olympic Games in Amsterdam, she was participating in what was only her fourth-ever organized track meet. She crossed the finish line as a gold medalist and the fastest woman in the world. This improbable athletic phenom was an ordinary high school student, discovered running for a train in rural Illinois mere months before her Olympic debut. Amsterdam made her a star.

But at the top of her game, her career (and life) almost came to a tragic end when a plane she and her cousin were piloting crashed. So dire was Betty's condition that she was taken to the local morgue; only upon the undertaker's inspection was it determined she was still breathing. Betty, once a natural runner who always coasted to victory, soon found herself fighting to walk.

While Betty was recovering, the other women of Track and Field were given the chance to shine in the Los Angeles Games, building on Betty's pioneering role as the first female Olympic champion in the sport. These athletes became more visible and more accepted, as stars like Babe Didrikson and Stella Walsh showed the world what women could do. And--miraculously--through grit and countless hours of training, Betty earned her way onto the 1936 Olympic team, again locking her sights on gold as she and her American teammates went up against the German favorites in Hitler's Berlin.

Told in vivid detail with novelistic flair, Fire on the Track is an unforgettable portrait of these trailblazers in action.
My Review:
The basic story of Betty Robinson is an amazing and inspiring story. That's not so much for the first Olympic victory, because really, she ran that one on native talent and naivete. My respect for her is for the fight back after her accident. It was only after that event that Betty learned what real work was, and began to take her running seriously.
If the book had stuck with Betty's story, it would have been an interesting biography, and given a hint of what the early days of track competition for women were like. Bringing in the stories of other runners allowed us to see the amazing changes and growth in the competition, providing a much more complete view.
Unfortunately, from my perspective as a listener to the audio book at least, there were too many stories, and too intertwined. I had trouble keeping track of who was when and where--there did seem to be some playing fast and loose with chronology--which made it a little hard to follow and cost some of my attention.
My Recommendation:
If you are interested in the history of women's athletics (particularly track), this is an important work. And it did make a nice pairing with the book below, as they overlapped at the 1936 Olympics. There's a lot to be learned here about the sexism that kept women down in that era, and the assumptions about what women could do which Betty and her fellow Olympians blasted to pieces. For those of us who grew up (mostly) in the post-Title 9 era, it's a good reminder that not that long ago, it was assumed that women not only couldn't do much athletically, but that it was unhealthy for them to try. Tell it to the women who competed last month in South Korea.
The second book was:
Title:
The Boys in the Boat: Nine Americans and Their Epic Quest for Gold and the 1936 Berlin Olympics
Author:
Daniel James Brown; read by Edward Herrmann
Publisher:
Penguin Audio, 2013. Original by Viking, 2013. 416 pages.
Source:
Library digital resources

Publisher's Summary:
Daniel James Brown's robust book tells the story of the University of Washington's 1936 eight-oar crew and their epic quest for an Olympic gold medal, a team that transformed the sport and grabbed the attention of millions of Americans. The sons of loggers, shipyard workers, and farmers, the boys defeated elite rivals from eastern and British universities and finally the German crew rowing for Adolf Hitler in the Olympic games in Berlin, 1936.

The emotional heart of the story lies with one rower, Joe Rantz, a teenager without family or prospects, who rows not for glory, but to regain his shattered self-regard and to find a place he can call home. The crew is assembled by an enigmatic coach and mentored by a visionary, eccentric British boat builder, but it is their trust in each other that makes them a victorious team. They remind the country of what can be done when everyone quite literally pulls together—a perfect melding of commitment, determination, and optimism.

Drawing on the boys' own diaries and journals, their photos and memories of a once-in-a-lifetime shared dream, The Boys in the Boat is an irresistible story about beating the odds and finding hope in the most desperate of times—the improbable, intimate story of nine working-class boys from the American west who, in the depths of the Great Depression, showed the world what true grit really meant. It will appeal to readers of Erik Larson, Timothy Egan, James Bradley, and David Halberstam's The Amateurs.
My Review:
This book was a bit hard to get from the library, as everyone is reading it due to the movie that came out in 2016. But it's also being read a lot because it is
good.
Where I felt like
Fire on the Track
was a bit all over the place and hard to sort out at times, this one laid out a compelling story in a way that led me right through. I didn't want to turn off the audio and get anything else done!
The book focuses on Joe Rantz, and we learn of the other rowers in much less detail. That might seem unfair, but Joe's story is both amazing for the obstacles he overcame, and at the same time a good stand-in for the entire crew. If ever we wanted to root for the underdog, it's when Joe is trying to find his place--on the team, at the University, in life. What he does to get to the university and to make the team is an arguably greater accomplishment than what the team does to get to and win the Olympics. But it's also no coincidence that the team that pulled together and won was made up of working-class boys (it appeared that the more well-to-do rowers at the UW didn't have quite the same fire, or maybe they didn't get the same chances to build muscle working during vacations). In fact, there was a comment that made it all completely reasonable to me: that the English had never allowed crews of working-class rowers to compete at Henley, because they would naturally have more muscle, having had to work for a living, so it would be unfair to the Oxford and Cambridge men!
I was completely riveted by the accounts of several races, most notably of course the gold medal race at the 1936 Olympics. Daniel Brown knows how to write an exciting narrative, and Edward Herrmann delivered it marvelously (as he did the entire book, though, alas, they should have given him some lessons in the pronunciation of Seattle-area place names. Always jarring to hear familiar names mangled!). It's interesting to see, too, a glimpse of the days when Olympic athletes really were amateurs--when college teams competed to see which could represent the nation (and when the Ivy League was surprised to discover they weren't always the best).
The only thing I didn't much like was the time spent following certain Nazis who had significant roles in the 1936 Olympics happening. But it's history, and it matters.
In fact, the author does a great deal to show how and why most Americans--and even Europeans--were lulled into thinking that the Third Reich wasn't really a threat, and that the tales that were starting to leak out of Germany even by 1936 must be rumors and lies (spoiler: they weren't).
My Recommendation:
Read it! The audio is great, but Mom said I had to get the book and see the photos, so I did, and it does add a lot (this is always the drawback of non-fiction audio--you miss the visuals, which are often fascinating and/or helpful). If you love sports, it's a great story of training and competing. If you love the human-interest stories the networks always like to pull out about the Olympians, this book has those beat all hollow, too.

FTC Disclosure: I checked the above books out of my library, and received nothing from the writer or publisher for my honest review. The opinions expressed are my own and those of no one else. I am disclosing this in accordance with the Federal Trade Commission's 16 CFR, Part 255: "Guides Concerning the Use of Endorsements and Testimonials in Advertising."