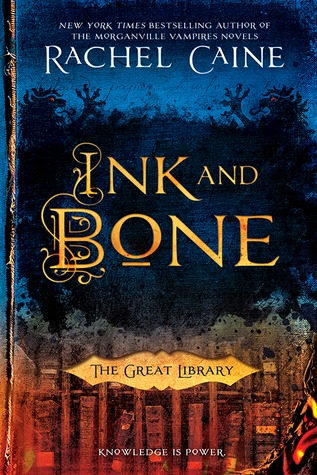 Title:
Ink and Bone
(
The Great Libary
#1)
Author:
Rachel Caine
Publisher:
New American Library
Source:
Library
Publisher's Summary:
In an exhilarating new series, New York Times bestselling author Rachel Caine rewrites history, creating a dangerous world where the Great Library of Alexandria has survived the test of time.…

Ruthless and supremely powerful, the Great Library is now a presence in every major city, governing the flow of knowledge to the masses. Alchemy allows the Library to deliver the content of the greatest works of history instantly—but the personal ownership of books is expressly forbidden.

Jess Brightwell believes in the value of the Library, but the majority of his knowledge comes from illegal books obtained by his family, who are involved in the thriving black market. Jess has been sent to be his family's spy, but his loyalties are tested in the final months of his training to enter the Library's service.

When his friend inadvertently commits heresy by creating a device that could change the world, Jess discovers that those who control the Great Library believe that knowledge is more valuable than any human life—and soon both heretics and books will burn…
My Review:
I grabbed this book because hey, anytime a library is a main character, I need to take a closer look, right? I found the story well-written, powerful, dystopian, dark, and grim. I couldn't put it down, even while I felt horrified by much of what happened. Maybe I felt with Jess the horror that the
Library
has become the evil, the enemy!
I did find some of the steampunk/magical elements a little hard to swallow, especially the mystical instant-message tablets everyone carries. The logistics of that as a magical device kind of boggle the mind, though we are of course used to it as a technological one. It felt a bit to me as though the plot needed it, so the author created the magic to do it. Maybe it jars me because the rest of the world isn't magical--there are amazing things, for example automata that are pretty much alive. But those are mechanical, however beyond imagining.
This book has a lot of depth and resonance, and maybe is an answer to those in our society who are anti-science? In any case, I will certainly snag the next volume when it comes out. It's a world that's due for a shaking-up, and Jess is a character with enough depth to be worth following.
Recommended for:
This is a pretty grim and dark story, so I would not recommend it for anyone younger than probably about 14. There is a great deal of death and destruction, though no sex. It is also very much for those who like dystopian tales, and for those who love books and libraries (but aren't afraid of a story where the library just might be the bad guy).
Full Disclosure: I checked Ink and Bone out of my library, and received nothing from the writer or publisher in exchange for my honest review. The opinions expressed are my own and those of no one else. I am disclosing this in accordance with the Federal Trade Commission's 16 CFR, Part 255: "Guides Concerning the Use of Endorsements and Testimonials in Advertising."