I don't have any reviews ready to go for today, but that's okay, because I need to remind you all about a couple of great offers.
First: today is the last day to enter my
Goodreads Giveaway
for the humorous middle-grade fantasy
Halitor the Hero
! Open to all US Residents (international fans--watch this space--I'll be running an ebook giveaway in the first weeks of December!).
Enter to win
###
#MGBookElves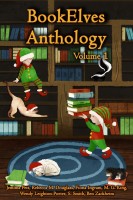 Next: The
BookElves Anthology #1
is available for pre-order! Ebooks are just $0.99 at
Smashwords
and
Amazon
, with paperback available on the Nov. 25 release date (price TBD). Fellow BookElf
Jemima Pett
is offering the book as part of a bloghop giveaway right now through Nov. 29 (along with another great looking book)!
BookElves Anthology
#1
Seven stories, seven situations threatening the festivities – a postbag that gets bigger, a Santa in summer, the strange disappearance of the gifts, a petnapping gang, a snowstorm in the wilds, a kidnapped messenger, and a whole raft of celebrations that are too strange to contemplate.
Will the holidays be a disaster? Or will seven bookelves weave seasonal magic?
Here's the scoop on those 7 stories:
* Reliable Clooney Dockins delivered his town's mail on time for thirty-two years, until that strange and impossible Christmas Eve when he woke up late. M.G.King (
Fizz & Peppers at the Bottom of the World
,
Librarian on the Roof
)
* Max the Tonkinese cat finds Santa Claus on the roof and is whisked away to retrieve a very special message from another time and place. Wendy Leighton-Porter (The
Shadows from the Past
series)
* Shirley Link is an amateur sleuth who lives in a town that could use all the sleuths it can get! What is it about Shelburne Falls, Massachusetts that makes it such a hotspot for dastardly deeds? Even on Christmas Day? Ben Zackheim (
Shirley Link Detective
Series,
The Camelot Kids
)
* Champ may be a rescue dog, but he's the best person around to stop the dognappers and save heartbreak at Christmas. Fiona Ingram (
The Secret of the Sacred Scarab, Champ: My Story of Survival
)
* When the railroad gets snowed under, the two bit town of Skunk Corners has to play host to a load of mighty difficult strangers. Can Big Al and the Ninja Librarian keep the season of goodwill from breaking into a riot? Rebecca M. Douglass (
The Ninja Librarian, Halitor the Hero
)
* Far away on the west coast of a western Scottish island, Dylan and Dougall face yuletide in Castle Haunn with no heat, light or food. Can Dylan get the message through to the mainland for help, or is there something nasty waiting for him in the hills? Jemima Pett (The
Princelings of the East
series)
* It's Christmas holiday and Lily is stuck in a remote mountain village. With school out for a month and no internet connection, at first she wonders how she will fill the time. In this sweet romance, Lily discovers there's more to gift-giving than just the giving. S. Smith (The
Seed Savers
series)
Each tale weaves its own seasonal magic. Each magician has already warmed the hearts of thousands of young readers with their stories. Enjoy these frantic races to meet the Christmas deadline while you curl up in your favourite reading spot this winter.
(Yes, we have
favourites
and a touch of
humour,
because our beloved Editor-in-Chief, Jemima Pett, is British).
###
And, of course, we have the incredible Read Tuesday event--more authors featured every day!