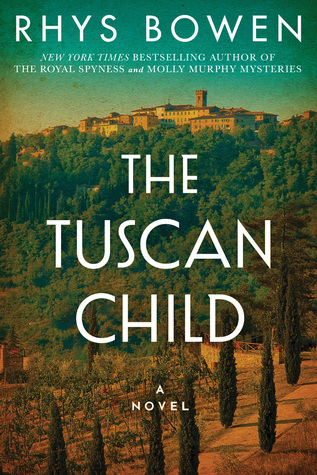 Title:
The Tuscan Child
Author:
Rhys Bowen
Publisher:
Lake Union Publishing, 2018. 352 pages.
Source:
Library

Publisher's Summary:
In 1944, British bomber pilot Hugo Langley parachuted from his stricken plane into the verdant fields of German-occupied Tuscany. Badly wounded, he found refuge in a ruined monastery and in the arms of Sofia Bartoli. But the love that kindled between them was shaken by an irreversible betrayal.

Nearly thirty years later, Hugo's estranged daughter, Joanna, has returned home to the English countryside to arrange her father's funeral. Among his personal effects is an unopened letter addressed to Sofia. In it is a startling revelation.

Still dealing with the emotional wounds of her own personal trauma, Joanna embarks on a healing journey to Tuscany to understand her father's history—and maybe come to understand herself as well. Joanna soon discovers that some would prefer the past be left undisturbed, but she has come too far to let go of her father's secrets now…
My Review:
Although this is billed as "a novel," Ms. Bowen's roots in the mystery genre are showing. The difference is that no one is setting herself up as a sleuth, and the questions we want answered go beyond the solving of a single crime. Still, Joanna can't let go of her desire to know more than some people would like her to, and her part of the story could easily be framed as a mystery.
The book belongs mostly to Joanna, but the nature of the story is changed some by chapters that follow Hugo after his 1944 crash. In those chapters, the reader sees some things that Joanna will never be able to know, removing the story from the ranks of whodunnits, in my opinion. That isn't a loss--Bowen can write a decent novel beyond the genre fiction for which she is best known (I'm a big fan of her Evan Evans and Royal Spyness mysteries, though I've been unable to really engage with the Molly Murphy books).
The pace of the book, overall, is deliberate. This isn't a hold-your-breath thriller, even when Joanna stirs up the hornets nest. It's really about Joanna and her search for who she is (even when she thinks she's searching for her father's past), and the pace and tone reflects that. I don't consider that a bad thing. I had no trouble keeping on turning pages, it just wasn't a thriller. In fact, my only real complaint was that there was a bit too much internal repetition of Joanna's fears, and a romance that felt a little too symmetrical to me. Those are small complaints against the backdrop of a satisfying story.
As always, Ms. Bowen is meticulous with her historical research, and her settings (both 1944 and the 1970s) feel well-painted and real. I didn't know much about the war in Italy, and the book does a little to fill in the gaps, though it's not really a book about the war.

My Recommendation:
Fans of Bowen's work will probably like this, especially if you liked her other recent foray into general fiction,
In Farleigh Field
(another book I classify as at least in part a mystery). The book lacks the lightness of the Royal Spyness series, but there are moments of humor and it reads quickly and easily.
FTC Disclosure: I checked
The Tuscan Child
out of my library, and received nothing from the writer or publisher for my honest review. The opinions expressed are my own and those of no one else. I am disclosing this in accordance with the Federal Trade Commission's 16 CFR, Part 255: "Guides Concerning the Use of Endorsements and Testimonials in Advertising."