I'm late. I know I'm late. Sometimes, that's just the way I am. I had to finish the book this morning!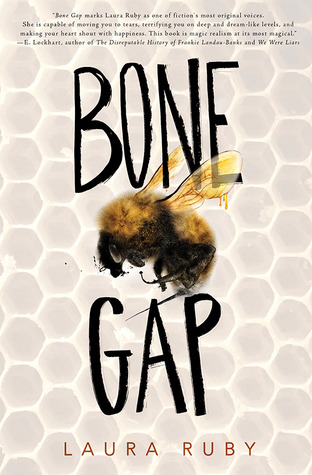 Title:
Bone Gap
Author:
Laura Ruby
Publisher:
Balzer + Bray, 2015. 345 pages
Publisher's Summary:
Everyone knows Bone Gap is full of gaps—gaps to trip you up, gaps to slide through so you can disappear forever. So when young, beautiful Roza went missing, the people of Bone Gap weren't surprised. After all, it wasn't the first time that someone had slipped away and left Finn and Sean O'Sullivan on their own. Just a few years before, their mother had high-tailed it to Oregon for a brand new guy, a brand new life. That's just how things go, the people said. Who are you going to blame?

Finn knows that's not what happened with Roza. He knows she was kidnapped, ripped from the cornfields by a dangerous man whose face he cannot remember. But the searches turned up nothing, and no one believes him anymore. Not even Sean, who has more reason to find Roza than anyone, and every reason to blame Finn for letting her go.

As we follow the stories of Finn, Roza, and the people of Bone Gap—their melancholy pasts, their terrifying presents, their uncertain futures—acclaimed author Laura Ruby weaves a heartbreaking tale of love and loss, magic and mystery, regret and forgiveness—a story about how the face the world sees is never the sum of who we are.
My Review:
I picked up this book because a co-worker heard me talking about
face-blindness
and said I had to read it. I talk about face-blindness (prosopagnosia)
in another review
, if you want to see what I'm talking about. And indeed, that is a significant theme in the book. I will also say
Bone Gap
is a work of magical realism, which I didn't realize when I started (because instead of reading the blurbs on the back I just started in). This is significant mostly because I'm not a huge fan of magical realism, so the book had to overcome that resistance. I'd say it succeeded in doing so pretty well, though in many ways I'd like to see the story without the magic elements.
Bone Gap
is well-written, and Ruby has a very nice voice and some great turns of phrase (also some fun moments, as Finn and Petey mock college application essays that ask you to write weird things). The plot is both totally predictable (boy meets girl, etc.) and completely not (no one is as they seem). Getting past my own prejudices, my biggest negative on the book is that I thought the ending was a bit pat--not the wrap-up of the big adventure, but the final wrap-up. I can't say a lot without offering spoilers, but people just get too blasted nice. I was pleased that the author left a few threads hanging.
Recommendation:
This is a YA novel that would be excellent reading for high school students. But to me it read like an adult novel. The teen romance elements were secondary to a story, and that story was complex as well as magical. I would recommend this for anyone from about age 14 up who doesn't mind magical realism.
Full Disclosure: I checked Bone Gap out of my library, and received nothing from the writer or publisher in exchange for my honest review. The opinions expressed are my own and those of no one else. I am disclosing this in accordance with the Federal Trade Commission's 16 CFR, Part 255: "Guides Concerning the Use of Endorsements and Testimonials in Advertising."