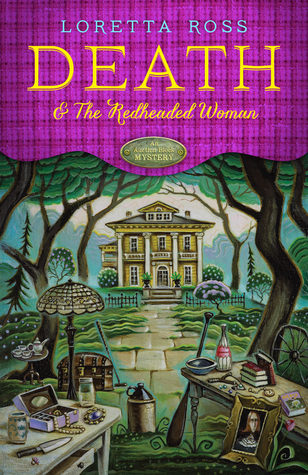 Title:
Death and the Redheaded Woman
Author:
Loretta Ross
Publisher:
Midnight Ink, 2015
Source:
Electronic ARC
Publisher's Blurb:
As someone who appraises and prepares houses for auction, Wren Morgan has seen her share of fixer-uppers. But when she arrives at her newest project, Wren is unprepared to find something she can't easily fix--a naked, dead man.

Soon after her disturbing discovery, Wren meets Death Bogart, a private investigator and surety recovery agent who's looking for the famous missing jewels of the Campbell family. When it becomes clear that there are actually two sets of lost family jewels, Wren and Death team up to solve not only the mystery of the jewels, but also the naked man's murder. With their case growing more and more complex, though, will they be able to catch the killer and bring home the loot?
About the Author:
Loretta Ross is a writer and historian who lives and works in rural Missouri. She is an alumna of Cottey College and holds a BA in archaeology from the University of Missouri – Columbia. She has loved mysteries since she first learned to read. Death and the Redheaded Woman will be her first published novel.
Links:
Website is at
http://www.lorettasueross.com
.
Blog is connected to her website at
http://lorettasueross.com/blog/
Facebook page is at
https://www.facebook.com/lorettasueross
Author page at Goodreads is at
https://www.goodreads.com/author/show/236665.Loretta_Ross
And Loretta Ross is on Twitter as @lorettasueross and her profile page is at
https://twitter.com/lorettasueross
Purchase Links:
Amazon
B&N
Book Depository
Review:
I admit it: I partly signed on to this blog tour because I'm a redheaded woman myself. I had no idea whether I would really like the book, though the story sounded decent. I just knew we redheads needed to stick together.
I am pleased to report that I really enjoyed the book! It turned out to be a real page-turner right from the beginning. When you open a story with a good-looking naked dead man, you are off to a great start, but you do have to live up to it. Ms. Ross did so. The story rolls along from peril to passion and back at an almost dizzying pace, and I found myself unwilling to put it down. Only now do I realize there wasn't a murder in the story (well, not a relevant murder); the mystery is more about finding what is missing and
preventing
a murder (or two). That clearly didn't disturb me while I was reading.
The "auction house" theme provided the proximate cause for the mystery, and gave Wren both full-time employment and the flexibility (and excuse) to spent a lot of time trying to solve this mystery. I thought it was well-balanced: enough detail to make it feel real and convincing, without feeling gimmicky.
The book has a very strong romance element, and a few moderately graphic moments (but no blow-by-blow accounts of sex). The romance is a little unbelievable in how fast it erupts, but it does allow the author to create a sleuth team that is truly a team, not (as far too many are) a one-sided relationship with one party or the other just making a few suggestions that allow the hero to prevail. I honestly couldn't say if this is Wren's story of Death's story. Each of them is given the chance to capture insights as well to be brave and effective and scarred and in need of love.
My only real objection was that the author wrote the ending with a clear hook into the next book. It works--I do want to read the next book and see what happens (especially given that this one was a fast and fun read), but I dislike feeling manipulated.
I give Ms. Ross and her new series a hearty thumbs up.
Recommended:
For fans of the cozy mystery who like a bit of spice in the romance, and some significant peril in the pursuit of the crook, but aren't stuck on the crime being murder.
Full Disclosure: I was given an electronic ARC of
Death and the Redheaded Woman
in exchange for my honest review, which I have given. The opinions expressed are my own and those of no one else. I am disclosing this in accordance with the Federal Trade Commission's 16 CFR, Part 255: "Guides Concerning the Use of Endorsements and Testimonials in Advertising."
This blog tour includes a raffle for a great "cozy reading basket"! Check it out and enter the drawing!
a Rafflecopter giveaway